Dates multiples
Feminine flow with Camille (womens dance) at Casa Corazon, Santa Gertrudis
Informations sur l'événement
Adresse
Casa Corazon
Diseminado P26
98
07814 Santa Gertrudis
Spain
Politique de remboursement
Politique de remboursement
Contactez l'organisateur pour demander un remboursement.
Les frais d'Eventbrite ne sont pas remboursables.
Description de l'événement
Feminine flow with Camille (womens dance) at Casa Corazon, Santa Gertrudis
À propos de cet évènement
This is a womens dance in person at Casa Corazon in Santa Gertrudis, Ibiza.
It is a meditative spiritual practice guided in person by Camille.
Ego aside, we gather as women, and dance in the beautiful wooden Shala with our hearts and wombs...
Each session starts with 15mn check-in, 1 hour and 15mn of movement, 15mn check out and 30mn in a women's circle to land togeher from the dance;
I guide you through the meditation and the dance, dance with you, hold space for you.
This is a safe space to explore your sensual self, your feminine essence, reconnect to the flow, the shamanic four elements, unconditional love and prayer.
The best way to anchor your body and process healing, as movement is medicine.
We dance with the feminine flow and sometimes masculine energy too.
We call out the archetypes of the Maiden, the Wild Woman, the Shadow, the Priestess, the Queen. We dance with the elements water, air, fire, and earth.
We combine it all so you can find clarity, comfort, and make space in your body to welcome divine messages.
You will need :
- some water nearby
- an outfit you feel comfortable and free to explore with, feminine and glamorous
- your phone off
- something warm to wrap yourself with at the end
- a personal journal and a pen (optional)
- a will to explore and to move!
Meditation will help you better than dancing... It's a moving meditation.
Maybe keeping a dancing journal can help you settling thoughts and feelings when you land at the end.
I will take you to some worlds. It is a journey. All you have to do, it to let go and trust the process. Just like in life ;)
This conscious dance allows you to just be you.
(Please stay during the entire event for the group energy -1h30mn)
You can pay drop-in price or the monthly membership price.
This is a NO REFUND event. When you've booked your space, you've committed to the practice.
Please arrive 5mn in advance to adjust sound system and your space nicely :)
See you every Tuesday 6pm GMT - 7pm CET!
Camille is a former actress, free-lance story teller, movement therapist, reiki practicionner trained in Movement Therapy (Goldmisth University) and Dramatherapy.
More on Camille on sur camillezolesi.com
Instagram @camillezolesi
"I absolutely adore our intuitive dances on wednesday evenings where we can explore our beings, our feelings with beautiful music, and guided by Camille's soft voice. It always is a magic moment where I feel safe and goodwill, where I'm able to let go."
— Tamara, Luxembourg
"Camille makes me feel comfortable. I love her approach and her own way of moving. After each session, I feel at peace and liberated. Her movement therapy sessions have a beneficial impact on me. Thank you Camille !!"
— Estelle, France
"Camille helps people feeling comfortable in their body so they are free to dance and move, and be centered. I can feel Camille's joy when she dances and it's contagious! She helps people to be able to have that self-confidence that they can dance away and it doesn't matter how. "
— Ange, London
"Every wednesday evening, Camille holds us with goodwill and love during the dance. She has an incredible energy, the themes she choses are always on point and there's always magic happening."
— Chloé, Portugal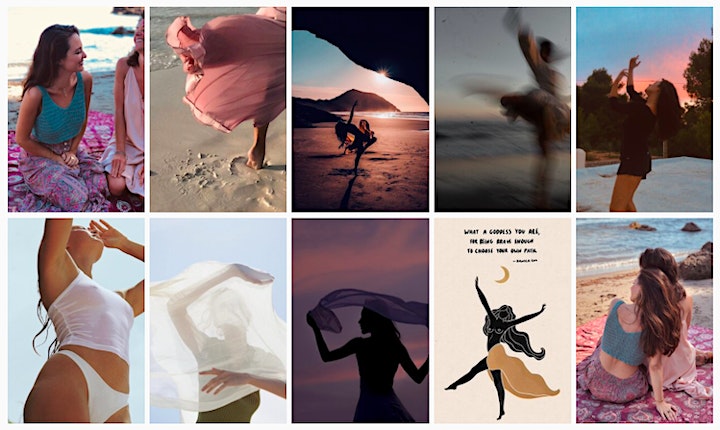 Adresse
Casa Corazon
Diseminado P26
98
07814 Santa Gertrudis
Spain
Politique de remboursement
Contactez l'organisateur pour demander un remboursement.
Les frais d'Eventbrite ne sont pas remboursables.
Organisateur de Feminine flow with Camille (womens dance) at Casa Corazon, Santa Gertrudis