Cet événement est terminé.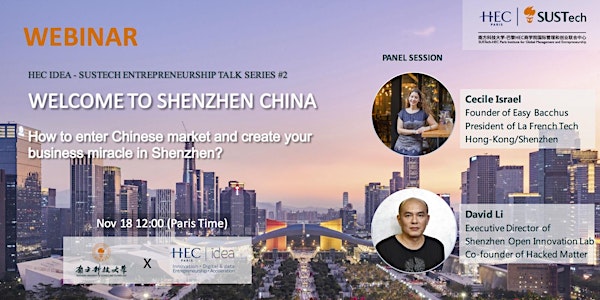 China Talk Series #2 - Stepping in the market in Shenzhen
How to enter the Chinese market and develop your business in China? What are the essentials of a successful go-to-market strategy?
À propos de cet évènement
Description:
HEC Paris & SUSTech University are partnering up to launch a France-China program between Paris and Shenzhen. One of the reasons entrepreneurs would like to set up a business in China is the size of the Chinese market. However, from outside, this market seems not easy to decipher. Is the Chinese language the only barrier to entry? What differences exist between B2B and B2C in terms of market entry? What are the most successful marketing strategies in China? How to use social media, influencers, to generate leads ?
Following up on a Talk scheduled in October, we are happy to invite you to join our second talk of an HEC-SUSTech Entrepreneurship Series
Panel Session :
• Cécile Israël, Founder of Easy Bacchus President of La French Tech Hong-Kong/Shenzhen
• David Li, Executive Director of Open Innovation Lab, Co-founder of Hack Matter Maker Collider, a platform to develop next generation Internet of Things from the Maker community.
The event will take place here : https://zoom.com.cn/j/63492759640, Meeting ID:634 9275 9640