Cet événement est terminé.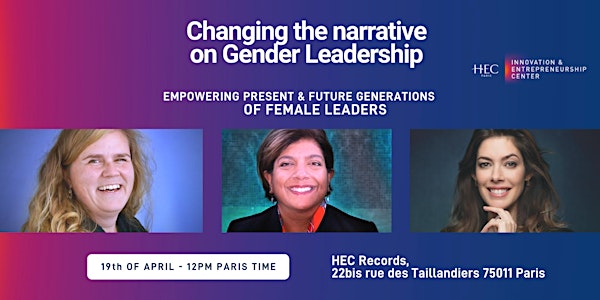 Changing the narrative on Gender Leadership
HEC Innovation & Entrepreneurship Center is glad to welcome you at HEC Records for a roundtable discussion around gender leadership
Où et quand
Lieu
HEC Records 22B Rue des Taillandiers 75011 Paris France
À propos de cet évènement
LIVE EVENT:
ONLINE BROADCASTING:
What are the key notions empowering present & future generations of female leaders?
The HEC Innovation & Entrepreneurship Center is glad to invite you to the following roundtable discussion:
Changing the Narrative on Gender Leadership
with key speakers on the matter :
Dr. Marcelle Laliberté, Chief Diversity, Equity & Inclusion Officer at HEC
Marcelle has over 25 years of experience in managerial roles, focused on Higher Education with a strong record in creating and leading new student-centered organizations promoting and supporting student development and success through a holistic approach to student engagement in and out of the classroom. Her speciality is internationalization, intergenerational, diversity, and inclusion projects. She is known for her commitment to public service and how university leadership shapes its response to national reforms, governance structures within Higher Education Institutions in Europe; Diversity, Inclusion, and Equity in Higher Education; and student engagement and how it can help to measure the social impact of universities within their communities.
Dr. Shaheena Janjuha-Jivraj, Associate Professor of Entrepreneurial Leadership and Diversity, HEC Paris Qatar
Shaheena has over a decade of experience in the field of gender diversity in leadership. Her work also focuses on creating inclusive cultures to strengthen the retention and promotion of women in leadership roles. She works with public organisations, NGOs and private business leaders around the world, including FTSE100 and Fortune 500, to help them transform their cultures and work on specific interventions that enhance gender diversity in the workplace.
She regularly speaks at events focused on promoting women in the workplace with global organisations such as UN Women, OECD, Chatham House, House of Lords (UK). Her research in fifty-three countries on women in leadership positions has resulted in a book she co-authored; 'Championing Women Leaders, Beyond Sponsorship' by Palgrave MacMillan.
Audrey Tcherkoff, Managing Director of Women's Forum for the Economy & Society
Also president and co-creator of l'Institut de L'Economie Positive with Jacques Attali, Audrey Tcherkoff has vouched for years a better world for future generations and women. In 2020, she published "Manuel pour une sortie positive de la crise". She explains her objectives for increasing the role of women in the economy and society, with new actions to achieve an ever greater impact, pointing the need for investing in girl's education at the international scale, and put women at the heart of government's post-crisis recovering policies.
Thandiwe Mkhetshane (J22) and Dawson Jope (J21), HEC MBA Students
This discussion will be moderated by Daniel Brown.
Daniel Brown has been a journalist for English and French media for over 30 years and is now Journalist and Editorial Coordinator at HEC Paris. Since 1987, he reported on international current affairs, African society, politics, sports, and "world music". For 22 years, he produced and reported for Radio France Internationale's weekly programmes on these topics. This meant travelling the world, with a particular focus on the African continent (reporting assignments in a total of 38 countries there).
His reports range from HEC collaborations with Muhammad Yunus, Xavier Niel and Rob Hopkins, to projects promoting young women entrepreneurs from Paris' impoverished neighborhoods and research on contested markets.
First come, first served.
Places in HEC Records are limited, but if you do want to attend the session anyway - the event will be live broadcasted. Order an online ticket to get the link!