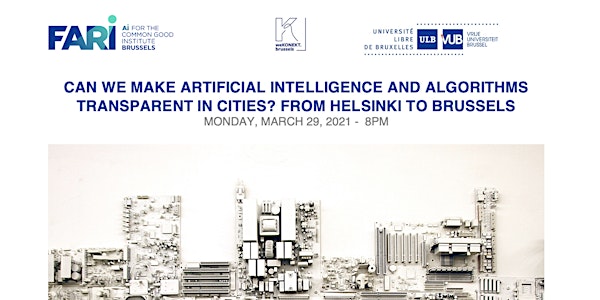 CAN WE MAKE ARTIFICIAL INTELLIGENCE AND ALGORITHMS TRANSPARENT IN CITIES?
Informations sur l'événement
Description de l'événement
How to make AI and algorithms transparent in cities? This presentation will give you some insights and examples from Helsinki to Brussels.
À propos de cet évènement
Live streaming on Youtube: https://www.youtube.com/watch?v=m2hkdO3qpVY
Artificial Intelligence is now pervasive in cities. Algorithms and intelligent systems help cities in different areas, from controlling traffic to allocating schools. They serve a wide variety of purposes but can also generate crucial debates: for instance, around surveillance with facial recognition. What is the situation in the region Brussels? How are universities involved in this?
How can cities be more transparent about where and how AI systems and algorithms are used? Meeri Haataja from Saidot and the Berkman Klein center will present her work implementing AI repositories in cities such as Amsterdam or Helsinki. Could it be an option for Brussels?
How can cities better communicate about sensors, data and algorithms? And in general, how could citizens be more sensitized and aware of these challenges. Research centre imec-SMIT –VUB will present initiatives such a transparency framework to create and enable transparency in smart city projects, such as the AI Blindspot card set 2.0 and Techcard approach.
The conference will be moderated by Rob Heyman, researcher at the Vrije Universiteit Brussel.
https://www.wekonektweek.brussels/en/wekonekt-week-2021-en/
---------------------
OUR SPEAKERS
MEERI HAATAJA
Meeri is the CEO and Co-Founder of Saidot, a start-up with a mission for digital sustainability and responsible AI ecosystems. Saidot is a platform for teams, who want to make their AI transparent and explainable, and invite their end-users into a dialogue around transparency. Saidot's technology is used by major public and private organizations, such as cities of Amsterdam and Helsinki, to operate their AI registers and communicate openly of their AI.
Meeri was the chair of the ethics working group in Finland's national AI program that submitted its final report in March 2019. In this role, she initiated a national AI ethics challenge and engaged more than 70 organizations to commit to the ethical use of AI and define ethics principles. Meeri is also the Chair of IEEE's initiative for the creation of AI ethics certificates in ECPAIS program (Ethics Certification Program for Autonomous and Intelligent Systems).
Meeri is an Affiliate of the Berkman Klein Center for Internet & Society at Harvard University since 2019 with a focus on projects related to building citizen trust through AI transparency & open informing.
Prior to starting her own company Meeri was leading AI strategy and GDPR implementation in OP Financial Group, the largest financial services company in Finland. Meeri has a long background in analytics and AI consulting with Accenture Analytics. During her Accenture years, she has been working in driving data and analytics strategies and large AI implementation programs in media, telecommunications, high-tech, and retail industries. Meeri started her career as a data scientist in telecommunications after completing her M.Sc.(Econ.) in Helsinki School of Economics.
Meeri is an active advocate of responsible and human-centric AI. She's an experienced public speaker regularly speaking in international conferences and seminars on AI opportunities and AI ethics.
Twitter: @meerihaataja, @ai_saidot
Linkedin: https://www.linkedin.com/in/meerihaataja/
ROB HEYMAN
The more digitalised we live, the more we get personalised decisions based on our information. My goal is to uncover how these things work and get people to understand what happens with data. I find it curious that so little is known about data in the age of big data.
My method consists of uncovering the hidden life of data by mapping these processes in easy to digest, texts, scenarios and visuals. We then use co-creation sessions to map current practices with end-users expectations, regulators or innovators.
My methods consist of Privacy Impact Assessments, data mapping surveys and privacy literacy surveys.
I finished my PhD at the VUB in 2016 on the commodification of personal information in Facebook and the effect this had on online communication. Before that, I obtained masters in Communication sciences and Philosophy. And in 2017, I learned to become a stakeholder manager at Levuur.
Next to learning, I like to teach and have given lectures and courses at the ULB and VUB on online marketing, research methods, privacy and challenges of the ongoing digitalisation.
Twitter: @RobHeyman
https://smit.vub.ac.be/team/rob-heyman
Organisateur de CAN WE MAKE ARTIFICIAL INTELLIGENCE AND ALGORITHMS TRANSPARENT IN CITIES?