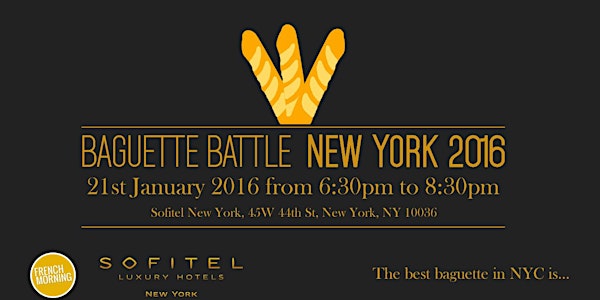 Best Baguette NYC 2016
When and where
Location
Sofitel New York 45 West 44th Street New York, NY 10036
Description
French Morning asked and two thousand readers responded: who makes the best baguette in New York City?
On January 21st at Sofitel, the twelve finalists will compete for bragging rights in front of a jury of professionals and celebrities, including legendary chef André Soltner, Didier Elena (the Chefs Club by Food & Wine), Sylvain Harribey (Sofitel Executive chef), Ariane Daguin (Dartagnan), Sara Moulton (TV chef on ABC and PBS); French writer Marc Levy; Charles Von Over (author of The Best Bread Over); Sylvie Bigard (food writer, co-author of "Daniel: My French cuisine").
You will be able to follow the jury deliberations as well as tasting yourself all the baguettes and breads and talk to the bakers. All bakers will display their baguettes and other breads for the public to sample before they choose their own favorite.
The public in attendance will also be able to vote and choose their favorite.
Tickets include bread tasting, buffet of cheese and charcuterie and wine. $30 per person. Early Birds: the first 50 tickets sold at $15.
A big thank you to our sponsors: Sofitel, Dartagnan, Savencia, Bonne Maman.