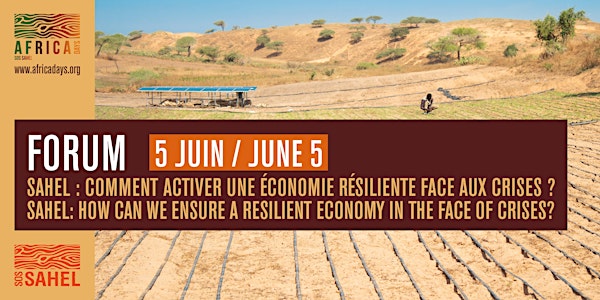 Africa Days Forum
Africa Days Forum online via ZOOM
About this event
[English below]
Participez au forum des Africa Days organisé par SOS SAHEL le 5 juin 2020. Nous explorerons ensemble les solutions locales et les opportunités technologiques qui favorisent le partage des connaissances entre les petits exploitants agricoles pour un Sahel plus vert et plus dynamique.
Les Africa Days sont un événement annuel organisé par SOS SAHEL pour offrir une plate-forme aux communautés locales, afin de faire entendre leur voix et promouvoir des solutions durables à la sécurité alimentaire, dans un contexte où l'agriculture est confrontée à des défis croissants. Cette plateforme innovante a également pour objectif de permettre les échanges entre les acteurs locaux, les institutions gouvernementales et régionales, les partenaires techniques et financiers, le secteur privé et les instituts de recherche.
En cette période de crise sanitaire mondiale, nous innovons en célébrant les Africa Days virtuellement.
////////////////////////////////////////////////////////////////////////////////////////////////////////////////
Please join us for SOS SAHEL's Africa Days Forum on June 5 as we explore tech solutions that promote agricultural knowledge sharing among smallholder farmers for a greener, more vibrant Sahel.
The Africa Days is an annual event organized by SOS SAHEL which exists to provide a platform for local communities, to ensure their voices are heard and to promote sustainable solutions to food security in a context where agriculture is facing increasing challenges. This innovative, online platform also allows to build bridges between local actors in the field, regional and governmental institutions, technical and financial partners, businesses in the private sector and research institutions.
Given the current global health context, we have decided to tackle this challenge in a new way by transforming the Africa Days celebration into a virtual event.