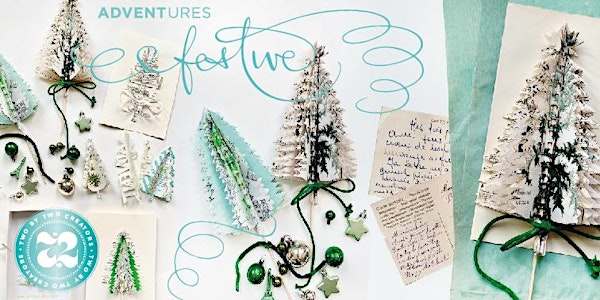 ADVENT ADVENTURES CREATIVE FESTIVE GREETINGS
CREATIVE FESTIVE GREETINGS 1st. Advent Adventure
Refund Policy
Contact the organiser to request a refund.
About this event
Two by Two Creators are a collective of experienced artists and creative innovators engaged with, and devoted to, sharing and exchanging their skills and knowledge for creative awakening.
Two by Two online courses are designed to help you explore your creative potential and produce work that you love. Filming live allows us to get up close, zooming in on the actual making and giving everyone a chance to understand the magical process behind what we create. Mind expanding conversations paired with essential craft-making skills can encourage us all to live a creative life, one of constant curiosity.
We are delighted to present you with 4 online courses, Adventures to creatively celebrate each Advent Sunday.
CREATIVE FESTIVE GREETINGS
On the first Sunday in Advent we open the door to our paper universe, taking you on an adventure making poetic paper greetings. Calligrapher extraordinaire, Betty Soldi will be joining paper cutting experts Helene and Simone Bendix to bring handwritten festive words to life. Combining textures and colours of different paper with magical words, we will create pure poeTREE!
1. 2. TREE.
Before we get started be sure to have different papers at hand; old maps, books, brochures, sheet music, plain and coloured papers, also recycled papers provide interesting textures. Of course you will also need scissors and pen. You will be sent a confirmation email when you book, reminding you of the materials required. You will get the link with passcode two days before and again on the day of the course itself. Please check these emails don't end up in an unwanted mailbox.
Suitable for ALL LEVELS
Everyone is welcome to join this class. We know this is a difficult and uncertain time, which is why we are even more eager to share creative thoughts, making more from what we have and being together... even if it is 'only' online. So, please don't make the reason for not joining a financial one. On the contrary, discover how it you can lift your spirits when you create something out of practically nothing. We trust you to pay what you can afford, no questions asked. Two by Two creators are truly grateful, for all your contributions as creativity is our source of income. Please book your ticket via the Eventbrite ticket button.
Looking forward to sharing creative and festive moments with you.
Helene & Simone & Kathy & Betty