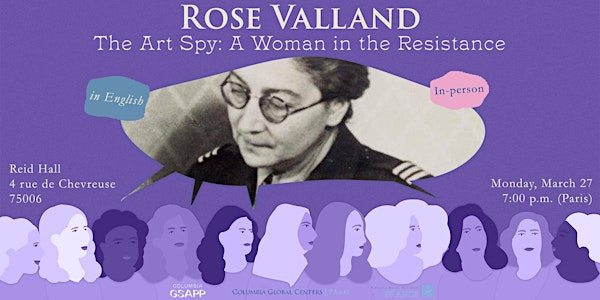 A Woman in the Resistance: Rose Valland, the Art Spy
Michelle Young presents her upcoming book on Rose Valland, the spy who saved thousands of works of art during the Nazi occupation of France.
By Columbia Global Centers | Paris
Date and time
Starts on Monday, March 27 · 7pm CEST
Location
Reid Hall 4 Rue de Chevreuse 75006 Paris France
About this event
This event will be held in English.
This event is co-sponsored by the Columbia Alumni Association | France and Columbia GSAPP
This event will explore why Rose Valland, one of the most decorated women of World War II and one of the greatest spies in the Resistance against Nazi art looting, has been mostly forgotten. In a forthcoming narrative non-fiction book from HarperOne (Harper Collins), Columbia University GSAPP graduate and professor, Michelle Young, will examine the life and career of Valland as well as the role played by her gender and sexual orientation. Michelle will also share how architecture and the built environment play a key part in the writing of this book and in Rose's story. Michelle will be in discussion with GSAPP graduate Ariela Katz, Associate Professor at the École nationale supérieure d'architecture Paris-Malaquais.
Michelle Young
Author and journalist Michelle Young ('12 GSAPP) is an Adjunct Professor of Architecture at the Columbia University Graduate School of Architecture, Planning, and Preservation. She is also the Founder of Untapped New York, an online publication and experience company which highlights New York's hidden gems, as well as an author of a number of books including Broadway, Secret Brooklyn: An Unusual Guide, and New York: Hidden Bars and Restaurants. Michelle is a frequent speaker on the subjects of architecture, urbanism, and preservation. She has appeared on PBS, The History Channel, Netflix, The New York Times, National Geographic and Huffington Post and her writing and photography has appeared in publications such as the Wall Street Journal, The Guardian, Hyperallergic, The Forward, Business Insider, Travel + Leisure, and The Wilson Quarterly.
Ariela Katz
Architect and architectural historian Ariela Katz ('91 GSAPP) is an Associate Professor at the École nationale supérieure d'architecture Paris-Malaquais, where she teaches both architectural history and design and is a researcher in the ACS group of the UMR AUSser, CNRS. Her research and teaching focus on ideology and aesthetics in interwar European architecture, Modernisms beyond Europe and critical reevaluations of recent theory and practice.After practicing architecture in New York City, Professor Katz taught in the Columbia GSAPP's New York/Paris Program, which she co-directed from 2003 to 2007. Dr. Katz has also taught at the American University of Paris, the ENSA Paris-Belleville, ENSA Versailles and the ENSAP Lille. She has received fellowships from NYU, the SAH and the Graham Foundation, and has participated in conferences, juries, workshops and guest lectures across the US and Europe.
About the organizer
For nearly sixty years, Columbia University students and faculty have come to study, teach, and pursue their research at Reid Hall, an educational hub at the forefront of international education and cultural exchanges.
Today, Reid Hall is the home of several Columbia University initiatives: Global Centers | Paris, Undergraduate Global Engagement, Masters in History and Literature, and the Institute for Ideas and Imagination. This unique combination of resources is enhanced by the Center's global network whose mission is to broaden the University's engagement with the world through educational programs, research collaborations, regional partnerships, and public programming that addresses pressing global issues.