Location
The Farm SoHo
447 Broadway
2nd Floor
New York City, New York 10013
Refund policy
Refunds up to 7 days before event
Description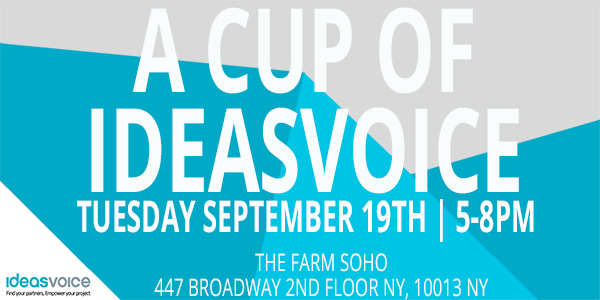 Attend our first event for entrepreneurs and cofounders in NYC :
A CUP OF IDEASVOICE at the Farm Soho
in Manhattan, New York City
on September 19th, 2017
Are you an entrepreneur or someone interested in the start up world?
Be sure to mark your calendar for September 19th!
On Tuesday September 19th The Farm Soho will work in collaboration with IdeasVoice on putting on the platform's first event in the United States: A Cup of IdeasVoice!
A Cup of IdeasVoice is an event dedicated to creating a space where entrepreneurs can come together network, gain valuable insight and practice pitch delivering skills.
The event will be facilitated by Of Course Global founders Rinat Sherzer and Hannah Phang.
If you're an entrepreneur/ seed stage start up interested in presenting a pitch at the event please contact Fatima Julien at fatima@ideasvoice.com with a brief description of the concept you will be presenting. 7 days before the event, have your project on the showcase of IDEASVOICE website.
Each project (maximum 5 projects) takes the stage and the audience interacts with the founder:
3 minutes to pitch,

10 minutes for questions,

and 10 minutes for feedbacks from all participants.
Anybody interested in the start up world is welcome to attend and contribute to the discussion!
To attend to the event Cup of IdeasVoice, register now, free tickets are available!
For inquiries regarding the event please call 781-363-7127 or email fatima@ideasvoice.com
Cancellation and refunding of your registration is possible 1 week before the event
------------------------------------
ABOUT THE FACILITATORS
Rinat and Hannah join forces and expertise in business, design, sustainability, and social good to drive positive change.
Rinat is a serial entrepreneur having built ventures at the intersection of technology, design, and social good. She led the global product launch of Sizmek and co-founded fisbo, a peer to peer platform to buy and sell homes.
Hannah is a strategic designer with a passion for sustainability and social good. Her background is in building communication and sustainability strategies for start-ups, large businesses, and Fortune 500 companies, such as Zady, H&M, and Maybelline.
Both Hannah and Rinat have a Masters in Design for Social Innovation. They believe that we can harness the power of business to solve for many social and environmental issues.