2019 Monaco World Sports Legends Award-Gala Dinner & Show & Award Ceremony
About this Event
4th Monaco World Sports Legends Award, The Oscars of Sport - 7th December 2019
PROGRAM
FAIRMONT MONTE CARLO HOTEL, SALLE D'OR
- 8.00pm : WSLA Red Carpet with PhotoCall & Cocktail
- 9.00pm : WSLA Award Ceremony with Gala Dinner & Show
- 11.45pm : WSLA Party
A particular feature for the event is that of linking sport with entertainment, art, fashion and glamour, making the World Sports Legends Award Monaco a unique international showcase: the Oscars of Sport.
As Monte Carlo has always been a venue for the most prestigious red carpets, stars from American cinema, great world sporting champions and VIPs are in special attendance.
The prestigious Prize awards sporting champions, men and women, both active and retired, who have gained distinction not only for their sporting exploits but also for their example, which is an inspiration for the new generations. The special prize "Best Sports Values" awards an athlete who stands out for an exemplary sporting gesture which embodies sport's ethical and moral values, or to well-known people for their community support through sport. The "Posthumous Awards" is conferred on great champions with legendary careers or to well-known people who operated in the sporting sector.
The Monaco World Sports Legends Award aims at promoting sport's ethical and moral values as ideals to motivate others, especially the young, to excel.
The Awarded enter the Pantheon of the World Sports Legends through their handprints.
✫✫✫✫✫✫✫✫✫✫✫✫✫✫✫✫✫✫✫✫✫✫✫✫✫✫✫✫✫✫✫✫✫✫
Info's and FAQ's
Dress code for the event?
Papillon and Full Evening Dress
What about parking lots?
Valet Service at the Fairmont Monte Carlo Hotel or there are some Public Parking around the Fairmont Monte Carlo Hotel (Grimaldi Forum, Casino, Louis 2) .
Can I book a room at the Fairmont Monte Carlo?
Yes, you can book a room with a special rate for the WSLA. For this, contact us and we will send you the direct link for the booking.
Are refunds possible?
No, refunds are not possible
Do I have to bring the printed ticket?
Yes, you can print your ticket. Anyway, you will be on the guest list at your arrival.
Is it a problem if the name on the ticket or on the Guest List does not match the name of the participant?
Yes.
Is my ticket transferable?
Yes, until 07.11.2019 against a transfer fee from 10,00 € per ticket.
How can I contact the organizer if I have questions?
Telephone: 00377.93.25.77.62 | Mail: info@worldsportslegendsaward.com
Further information on the website: www.worldsportslegendsaward.com
✫✫✫✫✫✫✫✫✫✫✫✫✫✫✫✫✫✫✫✫✫✫✫✫✫✫✫✫✫✫✫

During the 1st WSLA Award Ceremony with Grandmaster Jhong Uhk Kim, Jean-Marie Pfaff, Tia Hellebaut, Sir Anthony McCoy, Louis Ducruet, Pernilla Wiberg, Mika Hakkinen, the Master of Ceremonies Lorena Baricalla, Giacomo Agostini, Carl Fogarty, Victor Tello "WSLA Best Values for Community Support", Yann-Antony Noghès and Lionel Noghès "WSLA Posthumous Award to Antony Noghès".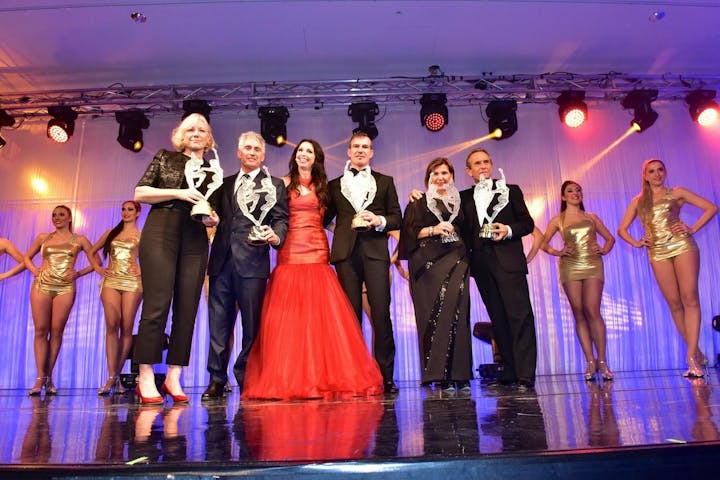 During the 2nd WSLA Award Ceremony with Josefa Idem, Michael Dooha, the Master of Ceremonies Lorena Baricalla, Armin Zoggeler, Michèle Mouton, Jacky Ickx
During the 3rd WSLA Award Ceremony with Osvaldo Ardiles, Freddie Spencer, Jutta Kleinschmidt, Bianca Senna "WSLA Posthumous Award to Ayrton Senna, Dott. Claudio Costa " WSLA Best Values, Founder of the Mobile Clinic in MotoGP" with the Master of Ceremonies Lorena Baricalla