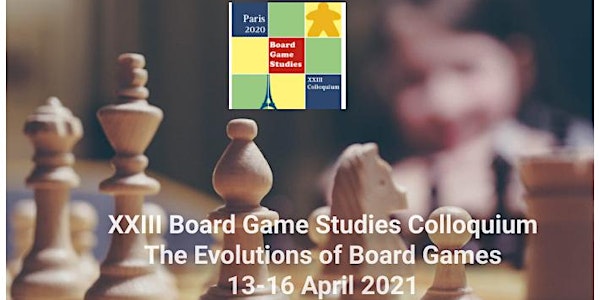 23rd Board Game Studies Colloquium Paris - 13-16 April 2021
The Evolutions of Board Games, 23rd Board Game Studies Colloquium Paris
About this event
The 23rd Board Game Studies Colloquium, previously scheduled for May 2020, is now set to happen from Tuesday 13 to Friday 16 April 2021.
Although based in Paris, the Colloquium will be entirely online, that is, in video conferencing.
The conference will open on Tuesday 13 April 2021, at 9:00 a.m. (French time). It will end on Friday 16 April 2021 around 16:00 (also French time).
33 speakers have confirmed they will participate, either 'live', or through a prerecorded video.
Download the full programme.
The event is free, but you need to register, whether you are presenting a paper or not.
To access the event, a link, a username and a password will be sent to you a few days before the conference.
Find out more: https://bgsparis2020.com/program/